The COZING-T05 indications :
Neuropathy ,Arthritis, Achy/Stiff Joints ,Neck & Back Injuries
Shoulder Pain ,Tennis Elbow ,Muscle & Ligament Tears
Knee & Hip Pain ,Triggers Points & Muscle Spasms
Sprains/Strains ,Carpal Tunnel Syndrome
Rotator Cuff Tear ,Sciatica (Leg Pain)
Arch Pain Pain & Healing Following Surgery
Herniated Discs ,Foot/Ankle Arthritis , Plantar Fasciitis
Morton's Neuroma , Ankle Sprains ,Achilles Tendinitis
Shin Splints ,Poor Circulation ,Stress Fractures
Bunion Pain ,Nerve Pain ,Non-healing Wounds
Diminish the inflammation and pain management
Pet pain relief wound healing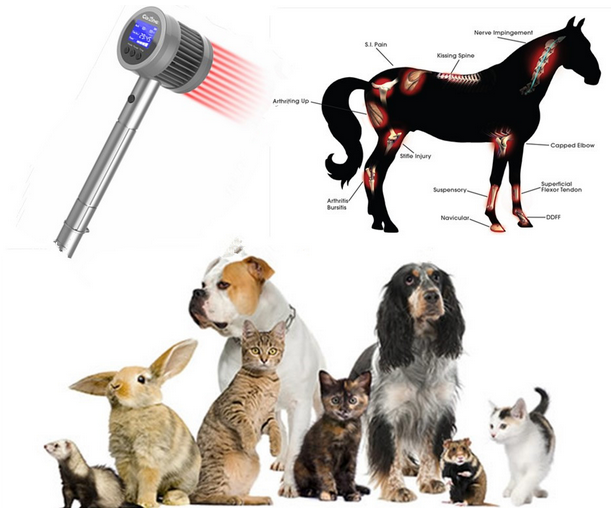 What`s the Benefits of COZING-T05 laser treatment?

Laser Therapy Recovery in an animal. Dogs usually find laser therapy to be stress-free and even relaxing. Since there is no anesthesia or sedation and therapy is

non-invasive

, your dog's recovery period is negligible.

The therapeutic laser has been demonstrated to relieve both chronic and acute pain by modulating peripheral nerve function and nerve conduction velocities. Laser energy increases the speed of tissue repair by

increasing local microcirculation

as well as stimulating the immune system and reducing inflammation. The laser energy also enhances collagen and muscle tissue development, which in turn enhances healing.

COZING-T05 is a high -power therapy laser that p

rovides safe, non-invasive,

it`s a good solution for pain management, wound healing and rehabilitation.

COZING-T05 is a new type of therapeutic laser that can provide

remarkable relief from chronic pain.

During each painless treatment, laser energy increases circulation, drawing water, oxygen, and nutrients to the damaged area. This creates an optimal healing environment t

hat reduces inflammation, swelling, muscle spasms, stiffness, and pain.

As the injured area returns to normal, the function is restored and pain is relieved. Treatments last about 5 minutes per site and are completely comfortable for the pets.
Is there any clinical case for the COZING-T05?

What's advantages of COZING-T05 ?
-Pulse Handheld The Laser Therapy The use of two different low-intensity light wavelengths (650 nm, 808 nm) to relieve pain and inflammation associated with many acute and chronic pain disorders.
-The treatment promotes the body's natural healing and healing processes at the cellular level.
- Efficiency is around 90%
-High power, it means it can shorten the treatment time.
- No need handheld, release the user's hand, we can treat at any time.
-The treatment time, power intensity can be adjusted at any time.
- In the humanized setting, each adjustment, the laser will output at 6 seconds.
-Portable, easy to carry, but show the high classes.
-Max. Power reaches 1200mW.
- During/before the treatment, the time, power and mode can be adjusted as your demand.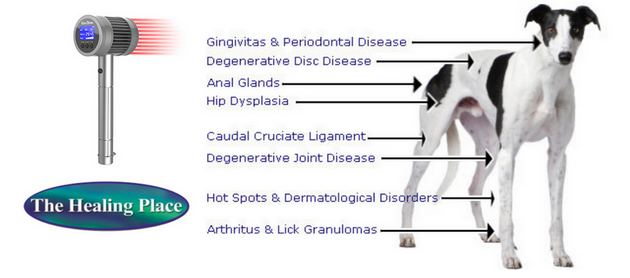 What are the differences between Low-Level Laser Therapy and High Power Laser Therapy?
Low-level laser is only capable of penetrating up to 0.5 cm into the body and treatment times for simple conditions can be as much as 1-2 hours. These Cold Lasers are limited to conditions related to the skin or just below the skin, such as superficial ligaments and nerves in hands, feet, elbows, and knees.COZING-T05 adopt the 808nm laser, and the penetration is 5CM~7CM, thus it could reach the excellent treatment efficiency.

High Power Lasers can treat all the same conditions that respond well to Cold Laser Therapy as well as many more. Because High Power Lasers can penetrate more deeply into body tissues, the vast majority of muscles, ligaments, tendons, joints, nerves, and skin can be treated effectively.

Treatment times are also dramatically reduced when treated with High Power Laser Therapy.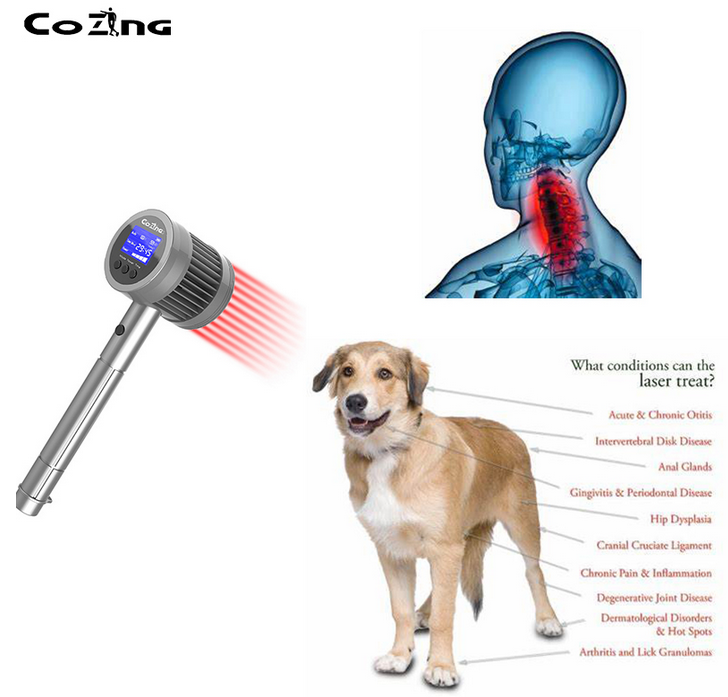 How to use COZING-T05?
press the on/off botton

adjust the mode,time botton

start treatment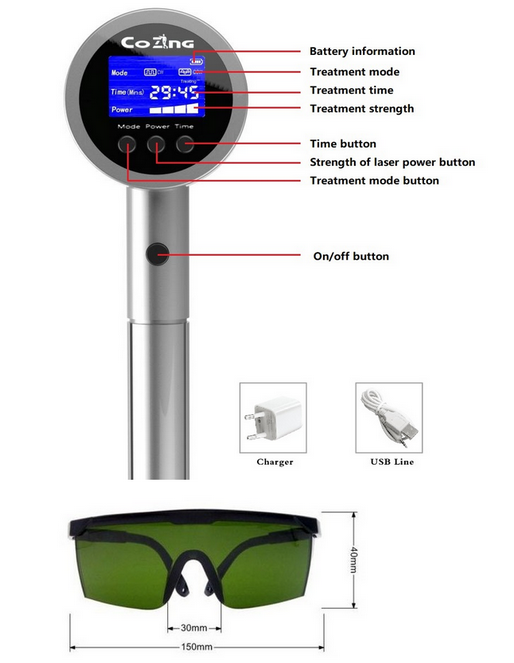 Package Includes:
1x Pain relief low-level cold laser device
1x Power adapter
1x suitcase
1x Manual
1x Warranty card
1*stand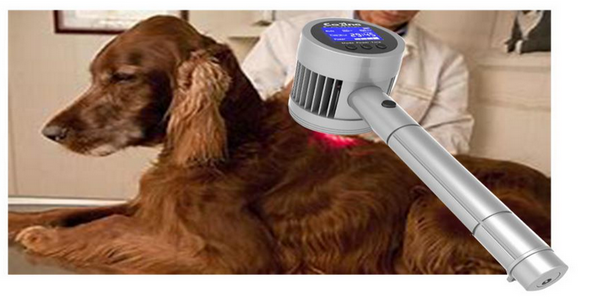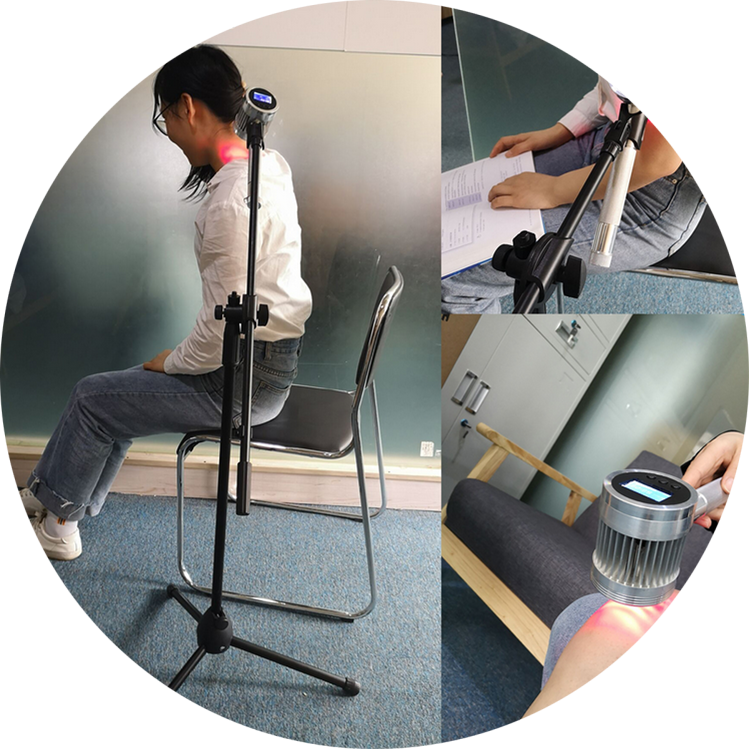 Veterinary Use Cold Level Laser Therapy Device Dog Cat Horse Wound Healing Animals Pain Relieve Machine
Product Code: COZING-T05
Availability: In Stock
$2,402.00

Ex Tax: $2,000.00
Tags: laser therapy pain, pain therapy, lllt laser, pet therapy, wound healing, laser therapy pain relief device, laser therapy, laser therapy for dogs, laser therapy animal, small animal laser therapy